Neuroblastoma claims more lives of children under the age of five than any other cancer. We need to improve treatments so they are more effective and less toxic and the way to do this is through research.
Currently, children come second in the world of cancer research – the children affected by neuroblastoma are on average just two years old. They are too little to represent themselves.
One in two children diagnosed with aggressive neuroblastoma will not survive.
We need to change this and we need your help.
When you register for the run you will be able to set up your own fundraising page(provided you are over 18 years of age) which you can then share with your friends and contacts, via facebook, twitter or by email.

When you register for Run2Cure 2021, a fundraising page is automatically created for you.

Your unique link will be emailed to you. Just follow the prompts or watch our video below to add an image and get started!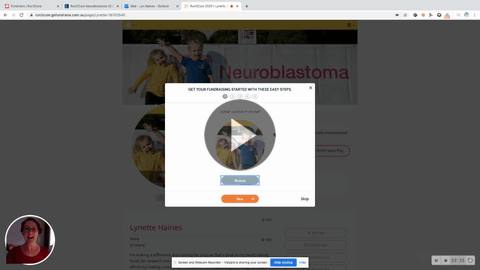 Video: https://share.vidyard.com/watch/XhTjMu3UbySySysDi6Endq?
We have fabulous rewards for those runners who choose to make a difference - our first prize of a pair of Run2Cure branded Steigen socks (worth $19.95) is yours when you reach just $60.
We also have prizes available at the $150, $1000 and $1500 milestones plus a social media shout out at $300 with your name included on our honour board.
Note: Run2Cure fundraising prizes

We offer prizes in recognition of the work involved with fundraising however we understand that some of our generous supporters would prefer not to receive these prizes.
This year we will offer everyone the choice, so if you want, you can choose to donate what you've earned back to the charity to help with future fundraisers.

More information on fundraising milestones can be found here.
A well deserved shout out to fundraisers who have reached $300+ in their fundraising activities so far. Congratulations!
Every single dollar raised will make a significant difference.

Examples of the difference your funds will make

$50
Will support the cost of the chemicals, staffing and equipment needed to screen 25 drug compounds which could potentially save a child with neuroblastoma and improve their quality of life.
$500
Will provide six months' supply of antibody to detect abnormal proteins in tumours so we can find out more about what causes neuroblastoma.
$1,742
Will help pay for the advanced technology required to examine one neuroblastoma sample. This will give us more information about the disease that we can use to design a treatment.
$8,000
Will fund an innovative drug trial for one child with neuroblastoma and potentially save their life. Trials are essential to boost survival rates.